Who We Are
What's in a name?
We took our name from Thenue (later known as St Enoch) who was the mother of St Mungo patron Saint of Glasgow. She had a hard upbringing as the princess of a pagan king. As a young, pregnant and unmarried woman her father ordered her to be hurled from a hill near Edinburgh. When she survived the fall she was put in a small boat and cast adrift in the Firth of Forth to perish. The boat, however, drifted over to Culross in Fife where she was given sanctuary by St Serf, and gave birth to Mungo who later came to Glasgow and founded the Cathedral. In 2000 we were presented with a carving of a mask of Thenew by a local sculptor, made from stone acquired from the demolished St Enoch Hotel. The carving now occupies a place in our registered office.
The video shows how we got our name.
In 2011, to coincide with our move to new offices and the launch of our new website, we decided to change our name to the more traditional spelling of Thenue.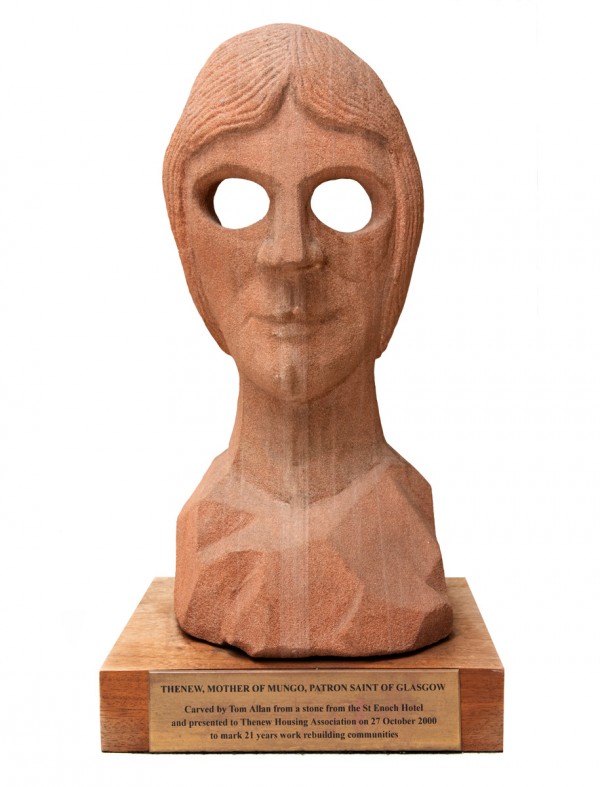 Statue of Thenue (or Thenew, and later St Enoch)
Our History
We began life in October 1979, starting in a small basement office in Anderston with one member of staff. Founded to provide development and management services to associations that were too small to employ their own staff, Thenue has grown into an organisation of nearly 80 members of staff, owning and managing some 3500 properties across Glasgow, with a Board of Management made up of 15 volunteers.
The move to the East End in 1995 meant that we became the landlord to some 1450 tenants and since then have acquired further properties through both our new build programme and transfers of stock.
In 2012 we moved from our base in Green Street Calton to new purpose built offices within our new build housing development on London Road.
The world has changed enormously over the last 40 years and so has Thenue. We face challenging times in the years ahead. Spanning the past and future is the unshakable belief that rebuilding communities means the right to a decent home at a cost people can afford, that community means more than bricks and mortar, that support should be available to those who need it and that decisions should be taken by those most affected by them.
We will continue to work with our communities and to improve the services we deliver in order ensure that the next 40 years will be as successful.
Thenue Housing Association is a registered society under the Cooperative and Community Benefit Societies Act 2014 and we are also registered with the Scottish Housing Regulator. We are recognised as a Scottish Charity and we obtained charitable status on 7th January 2002. We are an Investor in People Gold accredited organisation.