A Saintly Vision!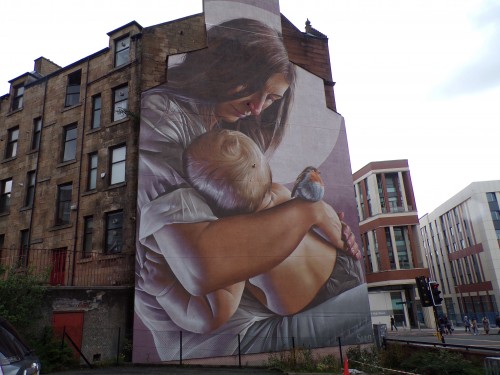 Last updated: 4.49pm, Thursday 30th August 2018 by Lynne McKenzie-Juetten
A STUNNING mural depicting the mother of Glasgow's patron saint and whom Thenue Housing is named after has been revealed.

This week we welcomed the unveiling of the mural not far from the city centre which shows St Thenue cradling and nursing her infant son.

St Thenue was also known as St Enoch and mother and son are synonymous with Glasgow's historic founding.

The mural depicts how St Thenue and St Mungo would have looked in a modern day context and artistically illustrates the unbreakable bond of love between a mother and her son.

Located on George Street at its junction with High Street – it has drawn huge praise for the Australian street artist Sam Bates also known as "Smug".

Charles Turner, our Chief Executive, said: "The creation of this mural has come as a wonderful surprise to us and reaffirms the strong connection that St Thenue and St Mungo have with our great city. It really has to be seen to be believed and is a work of art every Glaswegian can be proud of."

Thenue Housing – through its name – draws on a strong historical connection with Glasgow. St Thenue had a traumatic upbringing as the princess of a pagan king. As a young, pregnant and unmarried woman her father ordered her to be hurled from a hill in East Lothian known as "Tranprain Law."

When she survived the fall she was put in a small boat and cast adrift in the Firth of Forth to perish. The boat, however, drifted over to Culross in Fife where she was given sanctuary by St Serf, and gave birth to Mungo who later came to Glasgow and founded the Cathedral.

Thenue Housing has important historical pieces which reaffirm its connection to Glasgow. The first – given to Thenue in 2000 – is a carving of a mask of Thenue by a local sculptor, made from stone acquired from the now-demolished St Enoch Hotel in the city centre.

Then in in 2012 Thenue was given a painting of St Thenue created by well known eastender Janey Godley who spent many years of her life around the east end where we have our registered office.

An interesting feature of the mural is the inclusion of a robin. This is because St Mungo is believed to have restored life to the bird while growing up in Fife.