Register for our Self Service App For Tenants!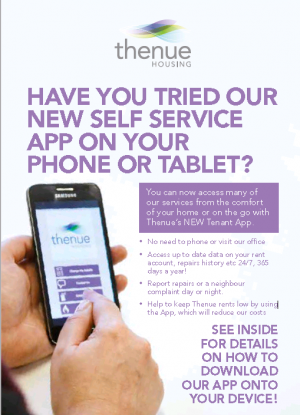 Last updated: 9.05am, Tuesday 7th November 2017 by Lynne McKenzie-Juetten
Have you registered for our new Self Service App for tenants yet? If not we can help you install it, just give us a call or pop into our office
The App is fully integrated with our Housing System which means that tenants can view up to date transactions on their rent account and their repair history. Tenants are also able to report a repair, make a neighbour complaint and make a whole range of service requests; all of which immediately appear on Thenue's system for action by staff.

Please click here for our Self Service app leaflet which will give more details on how to download the App on to your device and then register (please note only tenants of Thenue will be able to register with the App. We hope to have a version for our Factored & Sharing Owners to use at a later date).






Once you have used the app, we would love to hear what you think of it. Please click here for a short survey.