We Want Your Views on our Rent Review Options!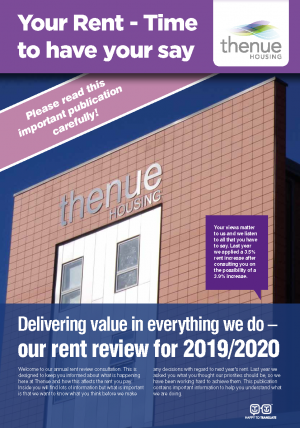 Last updated: 9.39am, Wednesday 9th January 2019 by Lynne McKenzie-Juetten
Every year Thenue has to review our rents to ensure that we can deliver the services you require and the investment you need in your homes. Generally speaking we will normally increase our rents by at least the rate of inflation. As our costs increase each year so must our income from rents.


This year, after consulting with our Tenant Scrutiny Panel we have agreed to put two options for a rent increase to you (to apply from 1/4/19).

Option 1: Increase all rents by 3.3%
Option 2: Increase all rents by 3.8% (to allow us to expand our Gardening Project across all areas).

To help you decide on your preferred option and read more about what our rental income pays for and how the gardening project has been such a success in one of our communities, please read our Rent Review Leaflet by clicking on this link: http://www.thenuehousing.co.uk/documents/view.php?documentID=962

Once you have read the leaflet please complete the short survey by clicking on this link https://www.surveymonkey.co.uk/r/5V38YLY

All responses will be taken into account by our Board at their meeting on 29th January before it is decided what the rent increase for 2019/20 will be.

Thank you for your feedback which is important to us.