A True Work of Art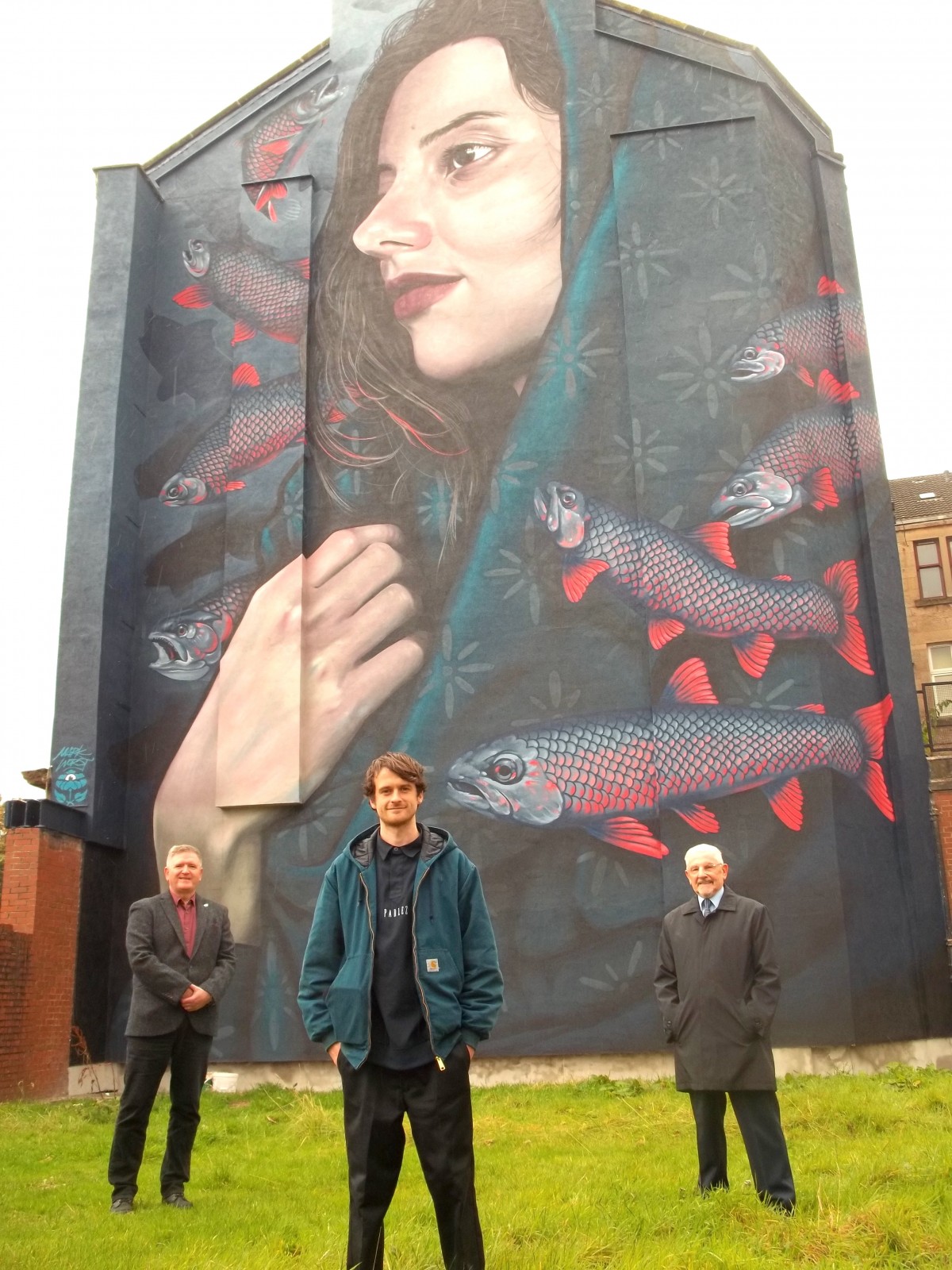 Last updated: 9.40am, Wednesday 23rd September 2020 by Lynne McKenzie-Juetten
Stunning new artistic landmark depicting St Thenue is now complete

The stunning and colourful mural by artist Mark Worst received the finishing touches this week.

His brilliant work showing the mother of Glasgow's patron saint St Mungo has been a major talking point since it first started to take shape some weeks ago.

Located on the gable of 374 Abercromby Street, Calton, it was commissioned by Thenue to mark our 40th anniversary in 2019.

It is a striking reminder of who the housing association is named after and the perfect way to mark four decades of service to the community.

Visiting the mural, our Chief Executive Charles Turner said: "The mural captures St Thenue perfectly and is a highly-appropriate way of marking our fortieth anniversary.

"It has become a major talking point across the city and Mark is to be congratulated for his brilliant depiction of the remarkable woman whose name we are proud to bear."

Mark said of his work: "I'm delighted how it turned out and pleased that Thenue Housing like it too. It was a privilege to research the life and work of St Thenue and learn how she overcame adversity to give birth to Glasgow's patron saint. I hope people can draw inspiration from the art work."

The mural of St Thenue - who was also known as St Enoch – shows her surrounded by fish.

Legend has it that St Thenue had a traumatic upbringing as the princess of a pagan king. As a young, pregnant and unmarried woman in the 6th or 7th century her father ordered her to be hurled from a hill in East Lothian known as Traprain Law.

When she survived the fall she was put in a small boat and cast adrift in the Firth of Forth to perish. The boat, however, drifted over to Culross in Fife where she was given sanctuary and gave birth to Mungo who later came to Glasgow and founded the Cathedral.

The fish connection stems from the fact that fish were believed to have guided the coracle to the shore.

There are also strong east end connections to the artwork. The shawl which St Thenue is wearing features 29 motifs in the fabric – a recognition of the 1889 Templeton's carpet factory disaster nearby in which 29 young women and girls died after a wall collapsed onto a weaving shed.

Local resident, former Chairman and current Board member of Thenue Owen Stewart said: "It is a superb artwork and something local people can rightly be proud of. Many people are commenting on how good it is and it has already become a new landmark for the east end."