Our Happy Anniversary Homes!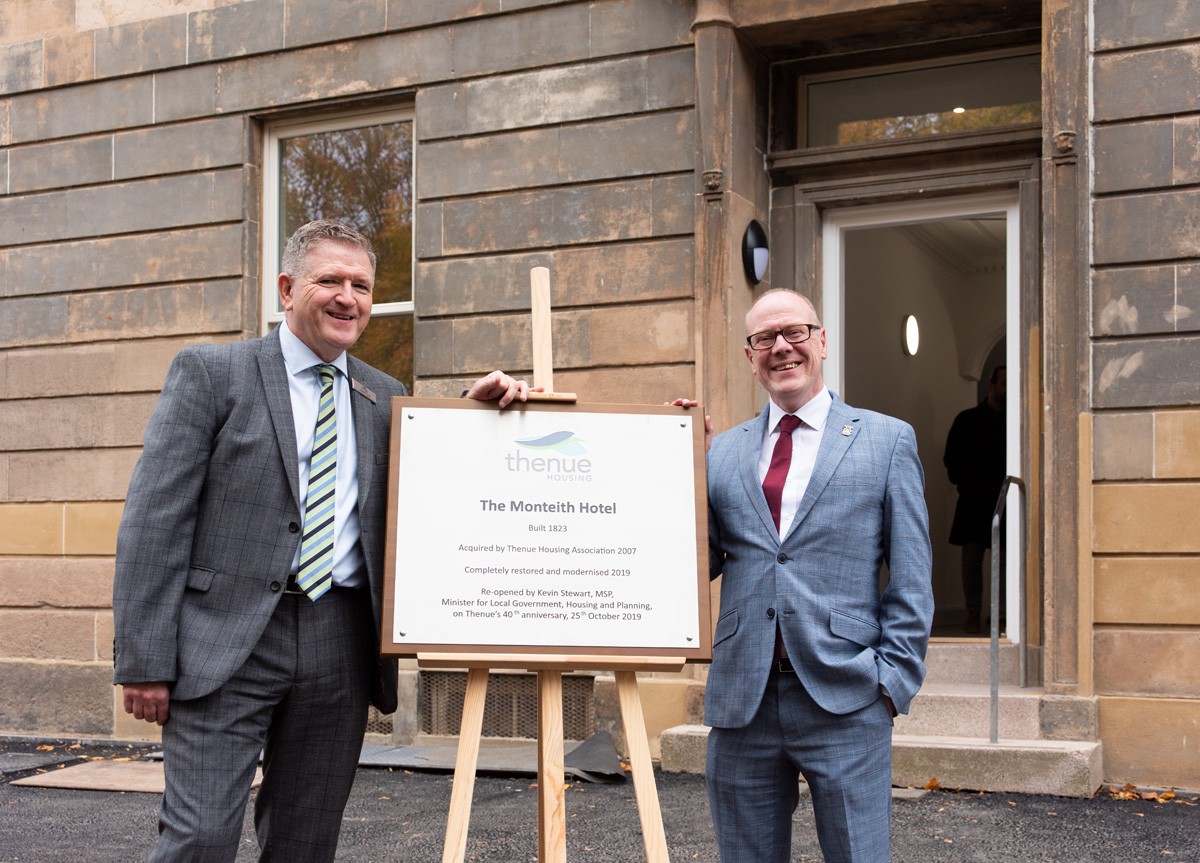 Last updated: 3.58pm, Wednesday 30th October 2019 by Lynne McKenzie-Juetten
Housing Minister Kevin Stewart has officially opened our new development of 49 homes costing £9.3 million in the east end on the same day we are 40 years old .

A centrepiece of the development has been the restoration of the "listed" and iconic former Monteith Hotel – once an impressive city mansion built in 1823.


The project was made possible with a £6.7 million grant from Glasgow City Council and the Scottish Government's Affordable Housing Supply Programme and more than £2.6 million from ourselves.

Mr Stewart said: "This fantastic new development will provide high quality, energy-efficient homes. It will also contribute to a diverse, vibrant and sustainable community in Glasgow's east end."

Our Chief Executive Charles Turner said: "What could be a better birthday present that giving one of our communities new housing? It perfectly defines what we are all about – and that's supporting our communities and delivering on our promise to build new homes."

The former Monteith hotel forms a key part of the development and also involves a new, impressive building which transforms part of London Road.

Six of the new flats are in the restored Monteith building while 12 of the 49 properties are designed for the elderly. Tenants will start moving into their homes in November.

Charles added: "We are very pleased that something which has been in the pipeline for some time has now become a reality. We remain very grateful to the Scottish Government and Glasgow City Council for helping to fund this development - without whom it would not have been possible."

Derek Quinn, Chair of Thenue Housing, said: "Building homes for our communities is an essential part of our work. This latest development creates a totally new building and at the same time we have preserved part of Glasgow's built heritage. It is wonderful that a building with such a rich historical connection to the city is being given a new lease of life."

Allan Callaghan, Managing Director Cruden Building who carried out the work said: "As with all Cruden Building developments, we feel it important to support the local communities we work within. As part of this development, we donated £1,000 to the local Alzheimer Scotland's Bridgeton Dementia Resource Centre & Day Care Unit. Cruden also made a donation of £5,000 to the Thenue Housing's employability initiative to support people in communities to learn new skills and gain employment. Two additional apprenticeships were also created by Cruden Building as a result of the Monteith project."