Twenty year wait is over as Castlemilk says hello to its new £1 million hall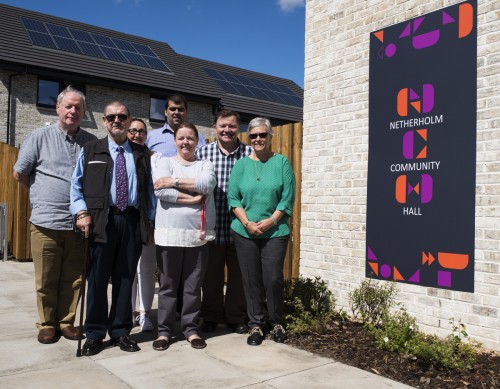 Last updated: 11.20am, Thursday 30th August 2018 by Lynne McKenzie-Juetten
It was a long time in coming but when it finally opened its doors this month, the new Netherholm Hall was well worth the wait.

The Netherholm community in Castlemilk is now celebrating its long-awaited showpiece hall a brand new £1 million hub designed to bring the community together.

Campaigners fought tirelessly for nearly 20 years to create the community facility refusing to give up and never allowing setbacks to knock them off course.

In 2016 it was revealed the campaigners had successfully won funding of almost £1 million from the Big Lottery Fund Scotland.

Two years later the doors have now swung open following an official launch by former Lord Provost and local councilor Sadie Docherty who has been a long-standing supporter of the campaign.

Unveiling a commemorative plaque Sadie said: "This is an important day for the community. All that work has paid off and we have a new community hall which this wonderful community can be very proud of."

George Alexander, Vice Chair of the Netherholm Area Association which undertook the campaigning, said: "This is a great step forward for our community. We have campaigned long and hard for a facility such as this and it is wonderful to see it here.

"It has been overwhelmingly welcomed by everyone and the community will put it to good use. Above all, it will help to bring people together."

The new facility constructed by Cruden, sits alongside 22 new homes built by Thenue Housing which the Area Association is affiliated to. Because the funding was successfully obtained, the new hall cost Thenue tenants nothing.

Charles Turner, our Chief Executive said: "The members of the community who campaigned so effectively for this hall are living proof that quitters never win and winners never quit. The effort that has gone into delivering this hall for the community has been truly inspirational."

The hall will host community events and also contains an information technology suite to deliver learning opportunities for local people. Thenue will run its recently-announced digital learning initiative known as "Clic" from there aimed at giving people digital skills.

There will also be a strong focus on activities for children and families while offering something for everyone whether they are young or old.

The official opening also allowed the community to pay tribute to local campaigner Yvonne McShea who died in 2013. Yvonne was a former Chair of Thenue Housing and was an early supporter of community-based housing in Castlemilk.

The information technology suite has been named in her honour – an idea which came from her fellow campaigners and which stands as a lasting legacy to her drive and commitment. Members of Yvonne's family were present at the opening.