Working Together to Build Bright Futures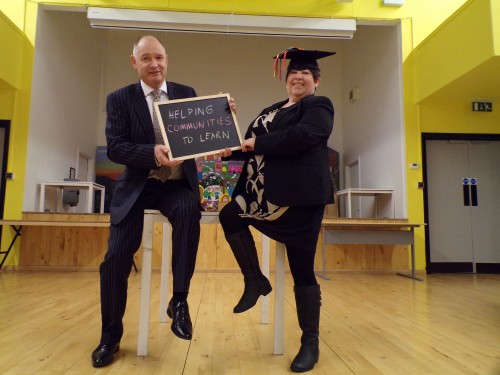 Last updated: 4.51pm, Thursday 30th August 2018 by Lynne McKenzie-Juetten
Opportunities for jobless people to learn new skills have been given a £5000 boost from generous construction firm Cruden Building.

It has dug deep to deliver the cash injection to assist Thenue and Glasgow Kelvin College who work together to help unemployed people.

This week Cruden Building handed over a cheque which will now be used to fund Thenue Housing's award-winning Learning Works initiative.

Working in partnership with Glasgow Kelvin College in the trail-blazing project, the free course has helped hundreds of jobless people find a pathway to success with a job or further learning opportunities.

The donation from Cruden will help underpin the future of Learning Works and contribute to other learning initiatives from Thenue.

Remarkably, almost 240 people have been through the free course which has just completed its 21st intake. Course 22 will soon be under way.

Learning Works is aimed at unemployed people in the area of Glasgow served by the regeneration agency Clyde Gateway and offers learning across a range of specialisms. These include computer skills, the importance of goal setting, personal development as well as the opportunity to brush up on literacy and numeracy.

It is all designed to make individuals as appealing as possible to potential employers and to defeat joblessness.

Allan Callaghan, Managing Director of Cruden Building said:
"At Cruden Building, we don't just build quality, affordable homes, we create and become part of the local community.

"We are passionate about nurturing and growing talent within our own organisation, so we're delighted to support the Learning Works programme and help local people gain invaluable skills through this fantastic initiative."

Our Chief Executive Charles Turner praised Cruden for the donation and added: "This money will help people to keep on learning and give many more the chance to gain new skills and ultimately get a job.

"We are extremely grateful to Cruden Building which shares our vision of helping communities at grass roots level. Learning Works has been a shining example of how organisations working together can transform people's lives."

Glasgow Kelvin College Vice Principal Alan Inglis, said: "We are delighted to once again be involved in recognising the achievements of the remarkable students on this hugely worthwhile programme.

"The success of the Learning Works groups underscores the value of working together to support learners as they achieve success. We feel privileged to be part of this dynamic partnership and are grateful to Cruden for their generous contribution to the programme.

"Congratulations go to all the learners who are here today, and to the dedicated staff who have supported them on their journey. Our thanks go to Thenue Housing Association for their continued trust and confidence and we look forward to working as closely with you all in the future."

Lawrence McCabe, Community Regeneration Manager at Thenue added: "Helping people back into the workplace so they can earn a wage and improve their lives is vitally important. We are delighted at the support this initiative has been given by Cruden Building."